What Next?
Sterling is in the rear view mirror. He was a lovely horse who got me back in the saddle but didn't satisfy the LOVE part of the equation.
Deep breath, things always turn out for the best if one is patient.
I have time to think about the characteristics I want in a horse, now fueled by the new information acquired during the Sterling experience.
I am not looking for a horse that has good resale potential, I am looking for a horse that will hopefully be my "forever" horse meaning that I want a partner who will enjoy doing the things that I want to do and will thrive in the living situation that I can provide.
First and foremost, I am searching for personal enjoyment. The reason that I have struggled to put food on the table and a roof over our heads by negotiating the hills and valleys of the extremely volatile and capricious horse business is because I love horses. So much so that I cannot get enough of them unless I earn my living by working with them. This has meant that I have spent my adult life in their company which has been fantastic—BUT it doesn't mean that I have always been able to "enj
oy" them. Just like any business I have had to temper my decisions with a view to making money. Every decision to purchase a horse has been made with a plan for future sales or compatibility with a certain job. I have always kept the horse's welfare front and center but my decisions have been based on finding the right path for every horse, a path that leads away from me towards a new owner, a new living environment and a satisfactory career. I am not at all used to considering my own requirements when purchasing a horse. The truth is, I'm not even quite sure what those requirements are.
So let's take a look.
First I must take into consideration my age and the fact that I really haven't been riding consistently for the last 14 years! (How I let that happen is another topic for a future blog post, beware fellow professionals!)
I am out of shape. I need a horse that can tolerate this, that will be patient while I get back in shape and that can carry me comfortably.
I am much more breakable and prone to injury than I used to be. The ground gets harder and further away with every passing year! My horse should be small enough so that she feels manageable when I am on board.
I have numerous physical complaints, arthritic hip, knee and back so my horse will have to be very comfortable. No extravagant movers.
I travel a lot for my work these days, constantly visiting the byways and highways of New England giving clinics. I love this work but it does mean that my horse will need to survive without me for days at a time. I can't be there to care for her every day. She will have to be boarded somewhere and be independent and hardy.
I'm using the she pronoun because I'm pretty sure that I want a mare, not because I don't like geldings but because the independence that I am looking for is generally something that I see in mares rather than geldings. A good mare is able to look after herself, she likes people and other horses but doesn't suffer from separation anxiety, she is independent and likes her own company.
She must be hardy. I don't want a hot-house flower. Since I won't be able to exercise and care for her every day she needs to be able to live outside on pasture board with a run-in for shelter. She has to be able to stay warm in winter without a blanket and tolerate flies in summer without allergic reactions or extreme anxiety.
I don't want to spend all my money on vet expenses or constantly worry about soundness. I need good bone, a correct and easy way of moving and excellent hooves.
What do I want to do with my horse?
Trail riding is the number one activity. I want to be able to get out into the country away from cars and people where I can listen to nature and recover from the driving that my job entails.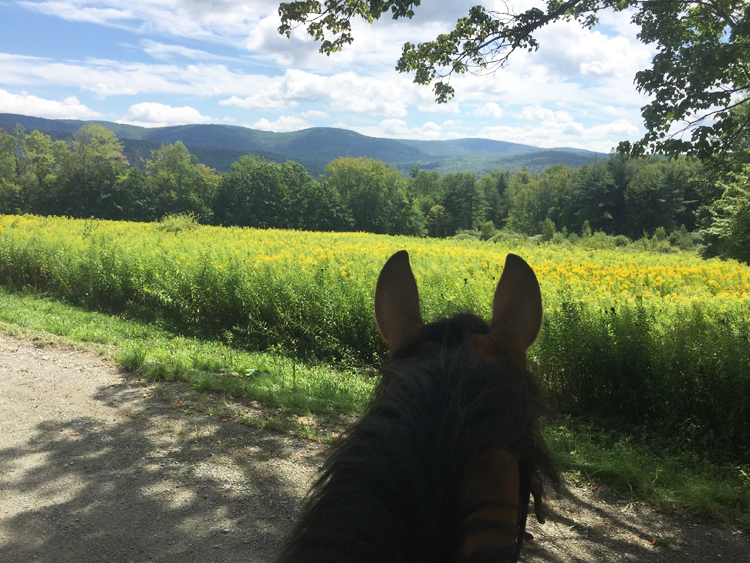 I know myself though! I will need the spice of a little competition to keep me sharp and motivated. The choice is completely obvious! Western Dressage. I love to teach it and am dying to ride it!
That just about sums it up. Now to find her!!